Bethesda Mission
The underprivileged, poor and needy of Harrisburg find refuge at Bethesda Mission, a Christian organization devoted to providing meals, shelter and support to those who come seeking help.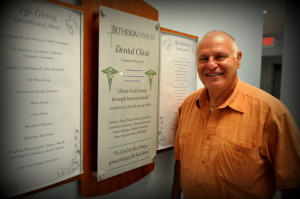 Thanks to volunteer efforts of local doctors, nurses, dentist and hygienists, the uninsured and underinsured residents of the mission can obtain dental and medical treatment. Bethesda was blessed with a brand new medical and dental clinic, made possible by private donations and grants. The dental operation now has four treatment chairs, x-ray machines, and an in-house lab.
Last year, 250 residents received dental care. At this time, dentistry is limited with residents of Bethesda Mission, but it is the organization's hope to be able to open their services to the community.
If you are able to lend your skills and time to provide dental services to the people of this amazing mission, please let us know.  You can also check out Bethesda Mission's website for more information: http://www.bethesdamission.org/help-bethesda/volunteer/
Bethesda Mission was recently featured on PennLive! Check out this great article for details about their new dental and medical facility: http://www.pennlive.com/midstate/index.ssf/2014/06/bethesda_mission_harrisburg_ne.html